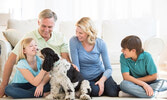 QUALITY OF LIFE AT PADDINGTON GREEN
We wish you all well on this beautiful fall day.
Regardless of the weather, where you are on the property or the time of day, you deserve and have the right to quiet enjoyment of your unit and of the common elements. However, so does everyone else. We have had a dramatic increase in the number of formal noise complaints. Some owners have been given warning letters, others have been fined and in one instance the end result was an eviction.
We understand you are entitled to lead your life at your own residence, HOWEVER, No unit or common area shall be occupied or used by an owner, tenant, guest or pet in such a manner as to interfere with the rights of others.
We have had an abundance of complaints of late regarding barking dogs and again some fines have been levied and Animal Services Agency from the City of Winnipeg has been in attendance. As per the City of Winnipeg- Responsible Pet Ownership By-law which is in effect 24 hours a day "A dog cannot unduly disturb anyone at any time of day".
If you are a pet owner you must keep that pet reasonably quiet - a couple of barks for instance is acceptable, but, continued barking that disturbs others is not. We thank you for your cooperation in advance but be assured, you will be held accountable.
Your Board of Directors